College Ten 
Calendar
See the full College Ten Calendar here.
Giving Day 2017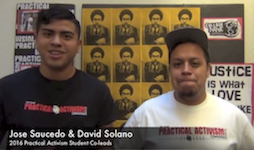 Thanks to your support, we raised $1288 for Practical Activism Conference on Giving Day 2017. Thanks so much to everyone in the UCSC community who helped spread the word and donated to this great program! Watch»
Leadership 
and Employment
Are you an active and engaged student leader? The search and hiring processes will soon be underway for exciting leadership and employment opportunities in the 2017-18 academic year.  
To learn more, please visit our student leadership and employment pages.
To be recognized for your continued leadership at College Ten and the work you do to promote the college theme, please click here for information about the Leadership Certificate.