College Ten 
Calendar
See the full College Ten Calendar here.
Giving Day 2017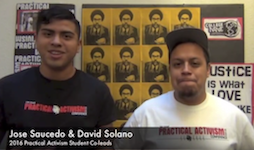 Save the Date for March 8! All Giving Day donations to C9/C10 will go to the Practical Activism Conference. Share your favorite memory with us here! Watch»
College 
Updates
Mark your calendars, graduating seniors! College Ten's Commencement Ceremony will be held on Sunday June 18th, 2017 at 1:30PM on the West Field. 
Our guest speaker will be C10 alum and award winning poet and educator Terisa Siagatonu!
New class coming Spring 2017 - CLTE 135 Social Justice, Institutions, and Power: The Origins of Trumpism. Learn more here!
Leadership 
and Employment
Are you an active and engaged student leader? The search and hiring processes will soon be underway for exciting leadership and employment opportunities in the 2016-17 academic year.  
To learn more, please visit our student leadership and employment pages.
To be recognized for your continued leadership at College Ten and the work you do to promote the college theme, please click here for information about the Leadership Certificate.